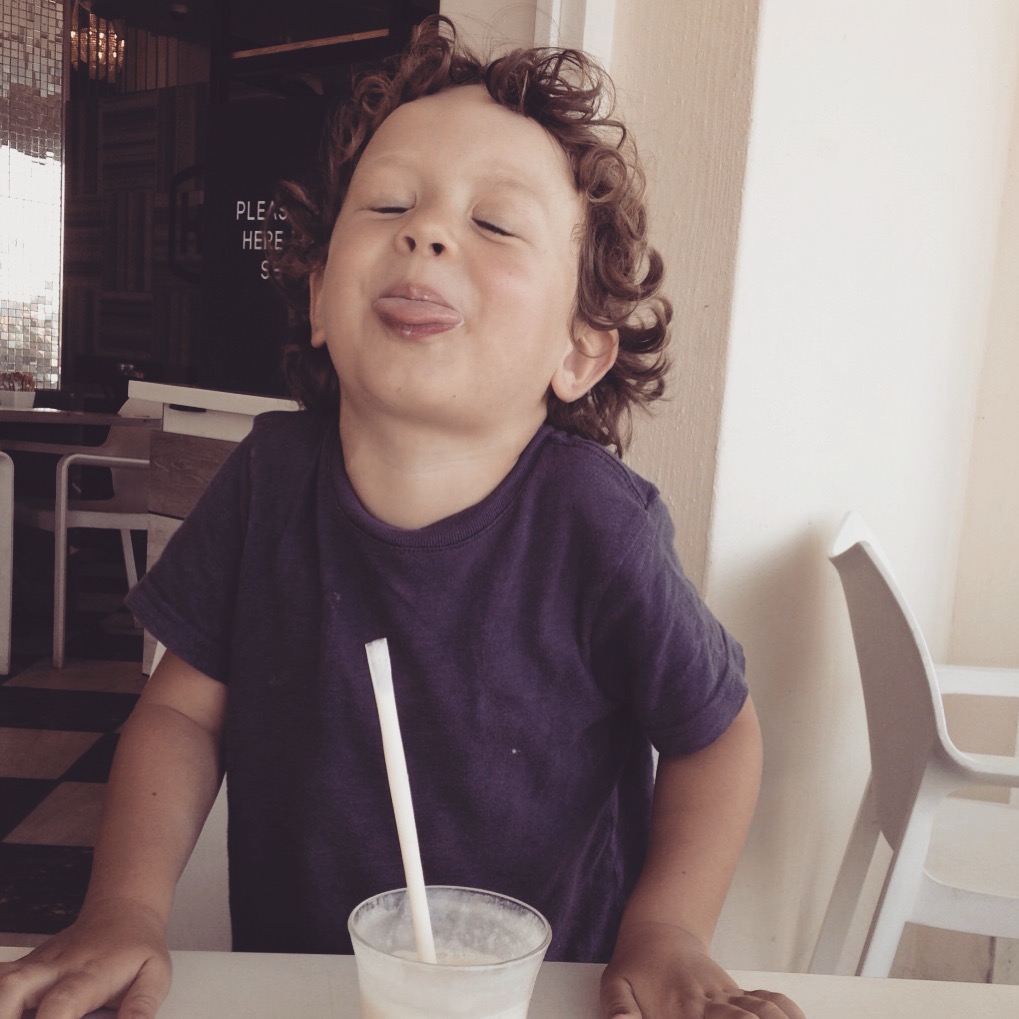 6 Ways to avert mutiny in your strong-willed child
It's Friday fun night. Homemade pizzas in their bellies, the three oldest kids are watching a DVD, but it grinds to a halt, too scratched to play any further. Trying to protect the fun, I cheerfully announce, 'Come kids, we're going back to the DVD store for another one. Who's coming with?'
Fynn (5) comes along. I am hoping for a special bonding time, but Fynn sees this as a good time for mutiny…
Fynn: 'Let me hold the DVD.'
Me: 'No, I think it got scratched because I let you hold it. Only I am holding it.'
Fynn: 'You always hold it! I never hold it!'
Me: 'Fynn watch your tone. I am the boss, not you.'
Then returning in the car with a new DVD, a second battle ensues…
Me: 'Sorry Fynn, but because we're running late, it means you can only watch half now and half tomorrow.'
Fynn: 'No! We ARE watching it ALL tonight.'
Me: 'No, you are only watching half now, and the rest tomorrow.'
Fynn: 'But then we are watching the rest tomorrow morning.'
Me: 'When we wake up tomorrow, mommy and I will decide when you watch it, but it probably won't be in the morning. But you will watch it tomorrow sometime.'
Fynn: 'Promise me that we will watch it when we wake up!'
Me: 'I just said we will probably not watch it first thing. And I don't have to promise anything. My word is enough!'
What on earth is going on here? This is nothing less than face-to-face combat. These verbal slaps come so fast I don't even realize what's happening. But on reflection I realize Fynn is trying to assert his authority over me. And he is willing to play dirty…
He accuses: 'You always hold it!'
He lies: 'I never hold it!'
He overreacts: He shouts 'No!' as though I just told him he will have to donate his left leg tomorrow.
He commands: 'We ARE watching it ALL tonight'
He demands: 'We are watching the rest tomorrow morning'
He is purposely deaf to my decree, and he tries to manipulate me and accuse me (by implying I don't keep my word): 'Promise me that we will watch it when we wake up!'
The same thing happens several times a week, and sometimes a day, in almost every family. My child is trying to knock the wind out of my authority over him. He is trying to displace me as Alpha. It's an attempted coup.
I say in 'almost' every family, because some of us do not have children who are strong-willed by temperament.
What do I mean by the 'strong-willed' child? Some kids are mild-mannered and naturally compliant from day one. They're eager to please and have no problem accepting your authority. But then there are other children who seem to need to oppose authority. They push back against your most reasonable instructions.
James Dobson, in 'The New Strong-willed Child' writes, 'It is simply part of their emotional and intellectual package brought with them into the world. This aspect of inborn temperament is not something boys and girls learn. It is something they are.'
By the way, I pity the compliant kids they interact with. I remember Fynn, at 2, bossing his older brother around. I said, 'Hey Fynn. Stop talking to Eli like that. I am his daddy. Not you.'
His retort? 'No, I AM his daddy. And his mummy'.
So what must be done when your child defies your leadership? Dobson says that, at the moment of rebellion 'it is extremely important for the adults to display confidence and decisiveness. Nothing is more destructive to parental leadership than for a mother or father to equivocate during that struggle.'
In short, I must stand my ground. I must not give up my scepter of leadership. I need to be strong and willing to face the rage, the rebellion and the rejection my kid spews upon me and my office as parent.
You must arrest mutiny in your child. Because surrendering to your oppositional child is so tempting, remember there are two reasons to calmly and consistently maintain and assert our authority over them…
Because kids want to respect you, but that respect must be earned.
Dobson makes this point unbeatably…
'Adult leadership is rarely accepted unchallenged; it must be tested and found worthy before it is respected. It is one of the frustrating aspects of child rearing that most parents have to discover for themselves.
But why do some children, particularly those who are strong-willed, have such a pugnacious temperament? Because they care deeply about the issue of "who's toughest."
Whenever a youngster moves into a new neighborhood or a new school district, he usually has to fight (either verbally or physically) to establish himself in the hierarchy of strength. This respect for power and courage also makes children want to know how tough their leaders are. Thus, whether you are a parent, a grandparent, a Scout leader, a bus driver, or a schoolteacher, I can guarantee that sooner or later, one of the children under your authority will clench his little fist and take you on.
When a parent bows before their child's defiant challenge, something changes in their relationship. The youngster begins to look at his mother and father with disrespect; they are unworthy of her allegiance. More important, she wonders why they would let her do such harmful things if they really loved her. The ultimate paradox of childhood is that boys and girls want to be led by their parents but insist that their mothers and fathers earn the right to lead them.'
Because by helping your kid accept appropriate authority you set them up for life.
Linda Pearson, in 'The Discipline Miracle' writes, 'A child must learn that his first teacher in life is correct and can be trusted and obeyed. We must help our child learn early (from a "good boss") to deal appropriately with authority – children who never learn to respect authority find themselves extraordinarily handicapped later in life.'
Being a 'good boss' takes hard work. But as your child accepts you as their leader, you will be able to navigate through all kinds of difficult situations with them.
So how do I arrest mutiny in my child? In six ways…
1.Don't overdo this mode of parenting. Calm command is just one gear in the gearbox of directing our children's behavior. There are many more indirect forms of directing strong-willed children – suggestion, negotiation, collaboration and giving choices for example – where there is little confrontation of wills. But those are second through fifth gears. They only work on your child if you have taught your child first gear too. You must use it, but try to use it sparsely.
2.Win the battle early. In the case of assertive, independent children, we have to establish our positions as strong but loving leaders when they are still in their preschool years.
3.Don't undermine your authority with explanations. John Gray, who in my opinion advocates a cotton-wool soft approach to directing children in 'Children are from heaven' nevertheless admits that,'Once you begin to command, negotiations are over. It weakens your power if you digress to have a discussion about why the child should do what you want. At this point, the best technique is repetition of the command'.
4.Don't be too timid. In these moments of nose-to-nose opposition, do you talk authoritatively? Are you decisive? Do you stand by your decisions? In his book, 'The well-behaved child' John Rosemond makes the point that we should engage in Alpha-speech. Too many of us lose the respect of our child with timid, unassertive speech. In so doing, we invite our children to walk all over us. Do you know the difference between the two? Rosemond gives the following example of the difference.: Timid speech: "You might want to think about beginning to put these things away so that I can set the table for supper, okay?" (Child acts like she hasn't heard a thing.) Alpha speech: "It's time to put those things away and set the table for me."
5.Sometimes just walk away and declare victory. James Lehman advocates that 'the next time your child tries to draw you into a defiant power struggle over something either minor or major, just say, "We've discussed what is going to happen. I don't want to talk about it anymore," and leave the room. When you leave, you take all the power with you – you just suck it out of the room, and your child is left yelling at a blank wall. Know that the more you engage your child in an argument, the more power you're giving him.'
6.Stay calm. When you lose it emotionally with your mutinous child, you start to sound to them more like their sibling than their parent. How can they respect you? The best way to win the respect of a strong-willed child is to stay calm while you command.
If you're curious, Fynn through blood-shot, tired eyes still angrily protested when we stopped the video halfway.
I stuck to my decision and saw my popularity ratings temporarily plummet in the moment.
But that's a small price to pay to give Fynn what he needs.
And what he needs to know is that I am the boss, not him.
Or, in Fynn's own language, 'I am his daddy. And his mummy.'
Any other ideas for dealing with defiant kids?
Comments
comments
---
Also published on Medium.