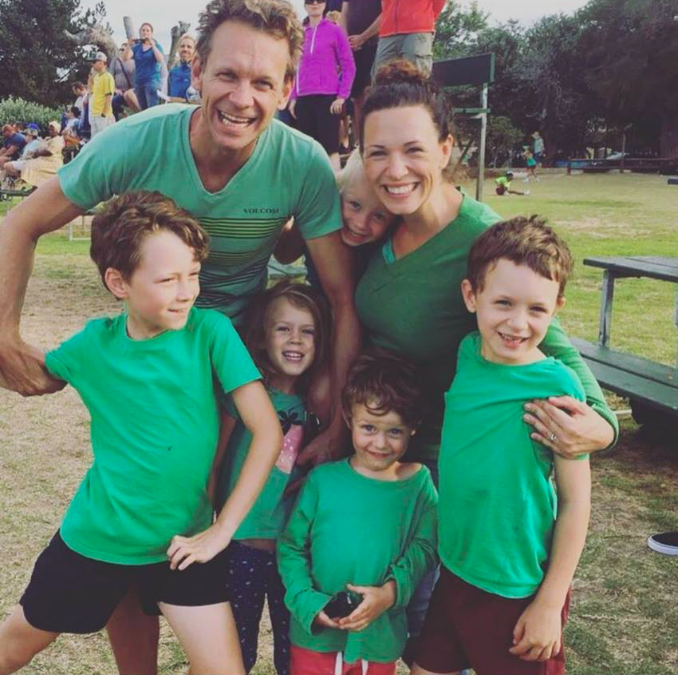 I'm done with putting in the kind of mediocre work in my parenting that would get me fired in any other job.
There's a lot of important things I do in life, but being a dad of five little kids is hands down, my life's most important work. Yet like so many other dudes, I gravitate to outward success that's easier to attain and further from the grueling chaos of sticky floors and screaming toddlers. I'm tempted to take a back seat in parenting, barely scraping through the crazy years, where validation tends to run low, exhaustion is the name of the game and results take too long to hold my attention.
But I got thinking – what if I applied the same intentionality and focus I give to my work and surfing to raising my kids? And if I took that approach, how do I stay on it?
The Dad Dude is the result. It's a blog for dads and moms in the trenches of trying to raise kids and remain sane. I try to write a weekly post that is at once inspiring, real and helpful to fellow battle-weary folks out there.
Who am I?
My name is Terran Nirvana Williams.
I love, live and breathe in stunning Cape Town, tourist hotspot of Africa. (No, there are no lions roaming outside. And yes, with that middle name, I was born to hippy parents.)
Not so far from my home is False Bay, where the Great Whites come to breed. Which is a pity, since surfing is my sport of choice.
I am married to Julie, the love of my life. She has written a few guest blogs. She is a strategist, writer, story-teller and brand manager.
Up until recently, I served as one of many leaders and communicators in a growing family of vibrant multi-generational churches all over Cape Town. Now I have taken to writing books and creating resources for the wider church via my other online portal: www.terranwilliams.com. 
Why write these articles?
We have 5 kids – ages 12 and under! (Yes, we do know what causes this many kids, and no, our TV is not broken.)
Being very, very out-numbered by miniature terrorist versions of ourselves that we had a hand in creating, I write as a means of sharpening my own parenting skills. And as a form of cathartic, cheap therapy. I'm hoping it also helps others out there too. In every post, I try to imagine my younger self reading… what do I wish someone had told me seven years ago?
To find out a little more about me, and how my life has led like an arrow to the creation of this blog, click here.
Why I write now and not later.
Someone said I should wait till my kids are grown up before I try to pass wisdom onto others in written form.
I respectfully disagree. For three reasons:
I write to learn. As Dawson Trotman said, 'Thoughts disentangle when they pass through the lips or fingertips.' So true. Writing helps focus my reflection, transforming the raw data of the daily parenting grind into the gold of wisdom. My goal is not to attain perfect competency in parenting, but to inch further and further away from the perfect incompetency I started out with.
I write to remember. Years after the experience, parents can't seem to remember the actual parenting experience, especially of little kids. I write for the same reasons I take photos. So that I can record this moment, preserving it from the amnesia of time.
I write to touch others. This blog tracks my experience on the one hand (two-steps-forward, one-step-back) and my wide research on the other (I like to read). Much of the wisdom that I will share is a simple articulation of the struggle, while other posts will be more focused on sharpening a specific skill or insight essential to parenting. I hope that giving people both the words and some of the tools for the dizzying range of parenting experiences we all face, will help impact them and improve their life's greatest work too.
Since the best time to learn, to remember and to touch others is now, the best time to write is… now.
Thanking my supporters
I have committed to giving my readers a quality read each time. But this is no guarantee that people would read, and like, and share, and follow my blog.
A few years in now, I am delighted that panelists and search and social metrics analysts on Feedspot.com in 2020 rated my blog the best Dad blog, and the fifth best blog out of 1000s of blogs created for parents and kids, by parents, companies and network hubs in South Africa. Yay.
Don't know where to start?
Best to look at the topic tabs on the right hand side, and click on one's relevant to your parenting questions and challenges. Or try these…
8 Things Every Teenage Son Needs Their Dad To Say
3 Selfish reasons to have kids
10 Daily habits to transform your family
Why our kids need our time more than our money or to achieve.
Permission to get shockingly real about parenting small kids?
For speaking events or permission to use my materials in publications, please contact me at terranwill@gmail.com.
Disclaimer: This is my personal blog. The opinions I express here do not necessarily represent those of the church I serve in and work for.