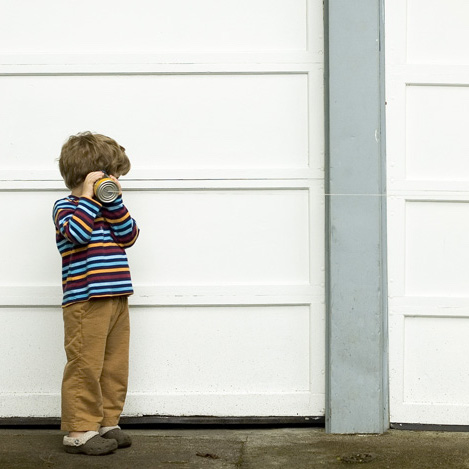 Listen to them or lose them: How to listen so your kids talk (Pt 2).
If we don't listen to our kids, we may lose them. Here's why.
Previously I admitted that I suck at listening. With so much work required, is it really necessary that I do the hard yards of improving? We know we have 'two ears and only one mouth' but are there reasons of critical import to work at listening to our kids?
Yes there are.
If we fail to really listen, we run the risk of losing our kids in six ways…
1. It undermines their self-respect.

One of the most sincere forms of respect is simply listening to what another has to say. Us parents need to be careful that familiarity doesn't undermine our basic respect for our children who, though assuming the role of terrorists from time to time, are first and foremost fellow human beings.
Perhaps, the most basic of all human needs is the need to be understood. In their book, Becoming the parent you want to be, the Parrots write, 'When you listen to a child, you're subconsciously telling him that he's important. Nothing is more encouraging to a child – preschooler or teenager – than having a parent's undivided attention while speaking.'
Listening is respect. And respect is a sign of good character. And good character is cool, says the dude with the coolest name, Calvin Coolidge: 'It takes a great man to be a good listener.'
2. They're less likely to listen in return.  
Listening is a long-term investment says Rob Parsons in his book, The sixty-minute family. 'If when your kid is 5 or 6 you spend a lot of time listening to them, when they're 15 or 16, they will more likely listen to you.'
But it works in the short-term too. Gail Saltz says, 'The most important way to talk so your child will listen is to listen to your child. If they feel listened too, they will trust you more, and be more interested in what you have to say.' Mark Kopta, a professor of psychology agrees: 'My golden rule is when you have trouble with a child, listen to them first and then empathize with them before you say anything.'
3. They become deaf to our guidance.

Listening works better than lecturing. Especially in the case of teens. Saltz opines: 'When you do have the floor, lecturing is not a good way to get your child to listen. It's better to shoot for engaging talk, talk that asks what they think and fosters their own thinking process and autonomy. Rather ask your children what they think about drugs, alcohol, sex or the way the teacher handled a particular situation. That way you can begin a discussion where there will be give-and-take and they will also be more likely to listen to you.'
Kopta adds that asking teens questions and letting them draw their own conclusions is far more effective and quenches their growing desire for independence too. So instead of saying, 'These are the bad things about taking drugs…' rather ask, 'What are the bad things about taking drugs?'
4. It weakens our bond with them.

Life tends to pull parents and kids apart from each other. What's the antidote? Parsons says, 'It's not usually found in expensive holidays, or even 'quality time', but in quite a lot of 'ordinary time' spent doing everyday things together – but talking while you do it.'
Although we're parents before we're friends, Ed Cunningham reminds us how to cultivate that friendship bond with our kids: 'Friends are those rare people who ask how we are, and then wait to hear the answer.'
5. It cripples them emotionally.
'If we can share our story with someone who responds with empathy and understanding, shame can't survive,' writes Brene Brown in her book, Daring Greatly. Conversely, when our kids don't feel heard, a sense of shame can thrive.
Faber adds that it does wonders in helping our kids work through negative emotions: 'When I'm upset or hurting, the last thing I want to hear is advice or the other's point of view. That kind of talk only makes me feel worse than before. But let someone really listen, let someone acknowledge my inner pain and give me a chance to talk more about what's troubling me and I begin to feel less upset, less confused, more able to cope with my feelings and my problem.'
Our attentiveness also gifts our kids with better self-understanding. As a biblical Proverb puts it, 'A person's heart is deep waters, but one who has insight draws them out.'
6. They will turn from us to substitutes.
So says the Parrots: 'Allow us to say it straight: If your child doesn't receive the personalized attention she craves, she will eventually disengage and write you off as irrelevant. We know this may sound harsh, but it's true. If a child does not receive the attention that only her parent can give, she'll find that attentiveness somewhere else—typically from her peers.'
Okay, I'm persuaded. If we don't listen to our kids, we may lose them.
I need to be a better listener. I want to be. I choose to be.
But when to listen? And what to listen for? And how to listen? I'll deal with these questions in future posts.
Comments
comments
---
Also published on Medium.