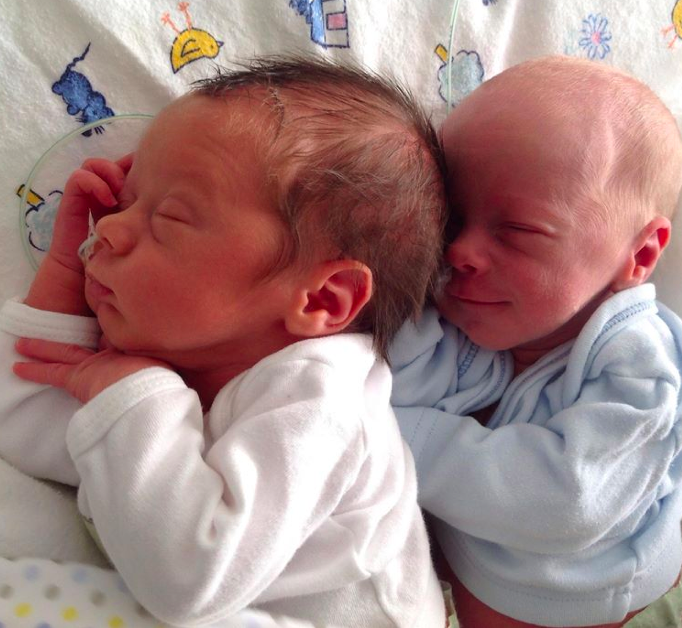 Why Are Siblings So Different?
The other day my friend told me, 'I'm convinced my mom had an affair when I was a child.' I was shocked. Had he uncovered some correspondence or pictures?
'No, it's just that there's nothing in common between me and my younger sister.'
I laughed.  'There are other possible explanations,' I re-assured him.
I have 5 kids with wildly diverse temperaments and talents. Same gene pool and home – yet they're nearly as different to each other in personality and powers as they are to our neighbour's kids.
I am not alone in this observation. In study after study, Social Scientists have found that siblings are almost as dissimilar to each other in temperament (and often talents too) as to a perfect stranger!
This comes as a shock finding to them.
They're about as amazed as I am as I get to know my final two kids – twins. As you can see in the pic taken weeks after they were born, Charlie and Sam (who are now 17 months) are fraternal. Sure they're a dizygotic duo but who would have imagined that they would not only look so different, but also live on the opposite ends of the personality spectrum?
Charlie is introverted, eyes turning away from a stranger who greets him. His brother however shouts out a Hello to one who fails to fuss over him. Charlie loves calm, Sam excitement. Charlie cries a lot, Sam giggles a lot. Charlie needs to be held, Sam needs his space. Charlie spectates, the other loves to put on a show.
Growing up with a sibling so different to me, I have pondered a question long before I became a dad: If siblings 1) share the same gene pool and 2) grow up in the same family / home / town, why are they so different?
Determined to get an answer, I recently 'sat in' on a lecture by Professor Mark Leary (Ph.D) in his online Great Course: Understanding the Mysteries of Human Behavior. My post builds upon insights from his fourth lecture.
Let me start with a question: scientifically, where do our personalities come from? Empiricists estimate that around 30-50% of it comes from biology: our genes. The genes we inherit build a brain that tends to operate in certain ways – leading to the idiosyncratic patterns of behaviour that we call personality and talent. That leaves a full 50-70% of our traits to derive from the environment: our unique experiences of the situations and people we interacted with, especially in our earliest years.
That being the case, surely siblings should be more similar? Since they share the same genetic inputs from nature (aka same parents) and very similar environmental inputs from nurture (aka same home), then surely we can expect siblings to more often have similar personality types and talent mixes?
Good question.
But it is based on faulty assumptions.
When the assumptions are corrected, in fact there are four surprising reasons siblings are so different, the first two dealing with nature, and the last two with nurture…

1. Siblings share far less DNA than we tend to assume.  
The average person, when asked what percentage of each parent's genes siblings share, tend to answer between 50 and 100%.
But it's far less than that. It's only 25%.
I will have to do some explaining because the 25% answer can be misleading until my terms are explained. In reality we share 99,95% of our overall genetic material with siblings, and 99,9% in the case of neighbours and strangers. Why so high? It is because only 0,1% of our genes could be called variability genes – those that account for differences amongst human beings (and the billions of variations that make this planet so colourful).
However, the difference between siblings is only half of 0,1%. It's 0,05%, because they share 50% of their parent's variability genes.
Put your thinking cap on and stay with me as we go back to our genesis.
We're the fusion of two sex cells. Each sex cell carried half the genetic information that our parent's body cells carry. At our conception, 23 chromosones (a 50% sample of mom's genes) combined with 23 chromosones (50% of dad's genes) to make a 46 chromosone zygote.
Our siblings however were made of a different 50% sample of mom, and dad.  The random contents of sex cells means that, on average, you will only select half of the same 50% from each parent.
Let me say that again: while we do get 50% of our DNA from each parent, we don't get the same 50% as our siblings. This means we only share 50% of 50% of mom's DNA or 25%, and 50% of 50% of dad's, or 25%.
This gets more fascinating when there are 3 or more kids (let's call them x, y and z), because x might share 25% of the mom's genes with y, but a different 25% of mom's genes with z.
I know, it blows a fuse in my brain too. But the Math works – when it comes to the variability genes, our kids have less in common than we tend to guess.
2. Personality and talents arise not from single genes, but from the random configuration of many genes.
Personality characteristics are not due to a single gene. There's not a gene, for example, for conscientiousness or leadership ability. Temperamental and talent patterns come from particular combinations of genes which act on the development of the brain and nervous system.
When it comes to personality, what matters is not what genetic 'cards' you get, but the ordering of those cards.
Or to use another analogy, imagine two people being given the same 10 digits, but in different sequences. 7531986420 is a very different number to 2590847613!
(Isn't it amazing that identical twins share not only 100% of the same variability genes, but also the same sequence. The result is that they are very similar psychologically.)
We're touching on the interesting field of Emergenesis – the detection of those traits which do not run observably in families but arise from time to time in individuals or identical siblings, through particular configurations of genes passed on from the parents.
Emergenic qualities include extroversion (introverted parents can create an extrovert child), genius or charisma.
Think of the genius levels of Mozart. None of his family had anything of the wattage of his musical talent. His talent was emergenic. Or think of a person with particular charisma, which is the fortuitous combination of  natural interpersonal aptitude, verbal ability and confidence, all arising from one's genes. Even a particularly dull set of parents can bring someone like this into the world – alongside siblings with far less dazzle in their gene mix.
In siblings there might be a 50% total overlap, but it's the configuration not the particular genes that come into play in the creation of traits.
3. Though siblings grow up under the same parents, and usually in the same home, life is actually very different for each.
As parents, we tend to overstate how we have brought our kids up the same. I have five kids – within 6 years of each other. Yet, despite this proximity of age and space, and our attempts to treat them fairly, life is and has been very different for all of them.
There's variety in the birth-order and gender. For Eli's first 2 years he was an only child. Fynn, who worships Eli, was born into a world dominated by not 2, but 3 primary figures in his life. Ivy is the first girl. The twins join a family of 7, and have a soul mate from birth.
Parents change. Our age, our level of experience, our energy levels, the quality of our marriage, our stress levels and our financial status have changed rapidly year on year. I can hardly say that we're the same people as we were just 4 years ago.
Each kid is different. This tends to bring out something different in the way we parent them. For example, Julie and I spend a lot of time persuading cautious Eli, and a lot of time dissuading overconfident Fynn. Charlie, whom we perceive as being more needy and sensitive, is permitted in our bed far more than his more robust twin. As for gender, there's just no way I as a dad could possibly treat my only girl exactly the same as I treat my four boys.
There's our children's early experiences of child-care, school and friends. They've had different child-care, been in different schools, had different teachers, and different sorts of friends.
The research reveals that if we pile up shared experiences on the left side, and unshared experiences on the other side, the see-saw tilts very heavily to the right.
But surely the shared experiences – few as they may be – play some role in socializing brothers and sisters similarly? Think again…
4. Even where siblings share the same experiences, their unique perception of these experiences is different. 
Social Scientists marvel that though there are many shared experiences siblings have, these tend to exert almost no common influence on the temperament of each child.
For a simple reason: life is not what is happening to us. Life is what is happening in us when things happen to us.
When my parents got divorced, I was 5 and devastated. I saw it as negative, My 3 year old brother on the other hand did not register that a family had been torn apart. Instead he enjoyed the chance to be spoilt on the weekends by our dad.
And when my dad died in our teens, our financial and emotional well-being plummeting in the wake of his passing, I saw it as a chance to exercise my newfound faith in God. My brother took it as a sign that God had abandoned him.
Some genes are awakened by environment. Stress or rejection might push one set of genes over the edge into depression or self-rejection, but not another.
It's also a case of chicken-or-egg. It's not just perceptions that shape temperaments. It's temperaments that shape perceptions. The free-spirited child will respond negatively to firm highly structured parenting in a way that the more docile child doesn't.
So interesting! It's not the events, but our unique perception of the events, that shapes who we've become!
Let me pull it all together: Why are siblings different? Did my friend's mom have an affair? It turns out the two things we assumed would make siblings more similar – nature and nurture – are in fact the 'forces' that make them so surprisingly and, in my home at least, refreshingly different.
PS: You might want to share this post with your parents, siblings or kids – it will make for a riveting conversation next time you're all together.
Comments
comments
---
Also published on Medium.