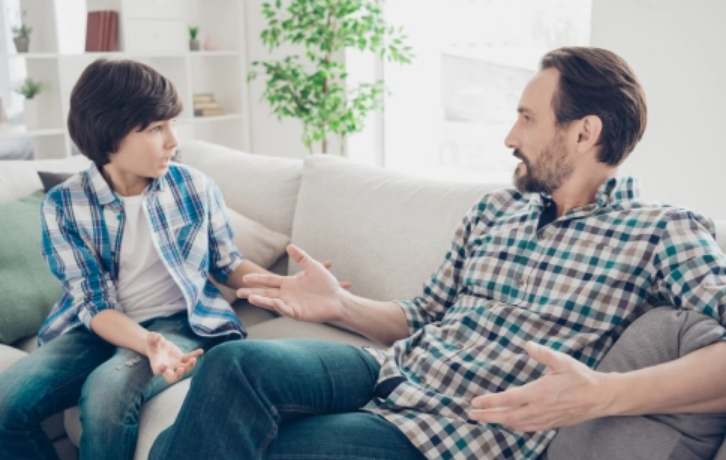 How To Talk About Sex To Your Preteen, Pt 1
How To Talk About Sex To Your Preteen, Pt 1

A few dads have recently asked my advice about what to say to their 11 year old son about sex.
That's great parenting. These dudes are trying to get their ducks in a row before they dive in and say some potentially unhelpful stuff.
I've written on what Julie and I tell our younger kids about sexuality before, but what about when they're soon to cross the rubicon of puberty?
If you're South African, you've already heard about the Comprehensive Sexuality Education being rolled out in schools' Life Orientation as of this year. Unlike other parents, I'm not nervous about my kids being prematurely "sexualized" by the content. With 6 million people in SA HIV-infected, including one in 6 pregnant teens, I commend our government's attempts to curb sexual onset in our nation's children.
My concern is different: I don't want my kids' primary nor initial source of sexual info and values to come from their school. Julie and I want first dibs at guiding them in this area.
I'm grateful I can know exactly what 'lesson scripts' will be taught at school (gr 5, gr 6, gr 7, gr 8, gr 9). It's motivated me to create my own 'scripts' for the several birds-and-bees talks I plan on having with my preteen – I will share them all in this blog-series.
Notice, I'm not leaving it to 'mom'. It's no secret that moms have great sway, especially on their teen daughter's sexual attitudes and behaviours. What is less known is that (for example, see this meta-study) there is a clear link between the father and the sexual behaviour of both his teen girl and boy:
Negatively, if fathers are physically absent or emotionally aloof, sexual onset tends to come sooner for their child.
Positively, if a father communicates directly to his kid, giving some reasons why he thinks they shouldn't have sex any time soon, the teen is more likely to delay sexual activity.
Interestingly, the study shows that what a dad merely thinks about teen sex has no effect at all on his teens, only what he actually verbalizes. (One more reason to speak up, dads.)
The bottom line is that, despite the pressure of media and friends upon the sexual values of our teenagers, no one has greater capacity to shape their sexual values and behaviour than mom and dad.
I propose that when our almost-teens are 10 (for girls) to 12 (boys), we should start preparing them for the 'sexual revolution' that is about to come upon them in their pubescent years. Waiting for that revolution to come before initiating this conversation is too late. (Besides, a child's average first exposure to porn is age 9 so they're thinking about sex long before they hit puberty!) It's better to get your foot in the door early and continue the conversation once they actually become sexually mature teenagers.
I don't know about you, but I want my kids to not have any kind of sex at all when they are teenagers. (If, despite my counsel to not do so, they were to have sex, I'd want them to use contraceptives and to engage in sexual behaviour with as few people as possible.) This encouraged boundary is not because I want to control them or limit their happiness. It's precisely because I want what's best for them, and as a wiser, more experienced human, I am able to take a long view on sexual fulfillment. As someone who was sexually active as a teenager myself, I really do know how needlessly complicated it can make a young life, not to mention the long-term negative effects of sex before one is properly ready.
If I can be honest, I'd prefer my kids to wait for sex till they're married, but that's another idea altogether. However, for the sake of this article, and a wider reach, in the very least I appeal to fellow parents to encourage their kids to delay sex till they're out of school.
Research is clear that there are things parents, both dads and moms, can do to curb early sexual onset:
1. Build a quality emotional relationship with them.
The stronger and healthier the bond between child and parents, the less susceptible they are to sexual pressure. Though the mother tends to do this better on average, when a father fails to build this bond, teen girls and boys are more likely to engage in early sexual behaviour – quite plausibly because that emotional void in their lives makes them yearn for the apparent 'love' of another or the approval of unhelpful peer pressure.
2. Establish yourself as the go-to person for sexual conversations.
Starting young, parents should avoid both punitive and prudish attitudes to sex, and rather engage openly, honestly and positively about all things related to sexuality – of course in a way that's sensitive to the age of your child. By talking to kids about sex in a way they find helpful before they hit puberty, you are more likely to be able to speak to them when they're in the thick of things.
3. As far as possible, hold to and model certain sexual values yourself.
Let's be honest, if mom or dad is sexually unfaithful to the other parent, or if single parents have several sexual partners, you're less likely to encourage your teens to do otherwise. I've got a friend who used to taunt his 11 year son for his virginity. Well just 6 years later that boy was very promiscuous – I am talking orgies and an endless array of one night stands. And then just another 6 years later, my friend's marriage was over, in part because of his numerous affairs and visits with prostitutes. On the other hand, I have seen this work positively, where children follow in the path of their sexuality-celebrating yet non-promiscuous and faithful-in-marriage parents.
4. Keep it as natural and non-awkward as possible.
As you initiate sex-related conversations with your preteens and teens, remember that these conversations should be done in the best possible way. This means reducing awkwardness where possible, finding the right time, and courageously taking the gap to answer questions and or speak into natural occasions (such as after a surprise viewing of a steamy scene on TV, or when discovering that your kid has viewed porn).
5. If you're a person of faith, root sexual values in timeless faith values.
Since there is not a prominent faith in the world that sees sex as something less than sacred, or encourages early sexual onset, if you and/or your child have moorings in one of these faiths, undergird your family's sexual values in the moral wisdom of that faith. As a person of faith myself, I only urge you to do so in the most positive way possible. Sadly, I've seen parents leave their children with the impression that in God's sight sex itself is something bad. The exact opposite is true – sex is one of God's greatest gifts (even though we might misuse the gift).
_______________________________________________
You must be chomping at this point. What exactly should we parents say to our near-teen about sex? Glad you asked. The following posts (which I've already written but not published) will guide you in 4 separate and sequenced conversations I suggest we have with your kids:
Convo 1: "I'd like to talk about puberty and the changes you can expect." (6 March)
Convo 2: "I'd like to talk about the sexual desire that puberty brings about." (6 March)
Convo 3: "I'd like to talk about the basics of physical sex." (13 March)
Convo 4: "I'd like to talk about the emotional and spiritual side of sex, and why it's worth the wait." (20 March)
Convo 5: "I'd like to talk with you about the pressures you'll feel to have sex before you're ready." (27 March)
Convo 6: "I'd like to talk to you about the stupidity of something called 'sexting'." (4 April)
Chat again next Friday then. And by the way, please spread word of this blog series to parents of preteens and teens. I think it's going to help us all, and more importantly, our kids who'll be able to more safely navigate the sexual pressures and lures they're sure to soon face.
Comments
comments