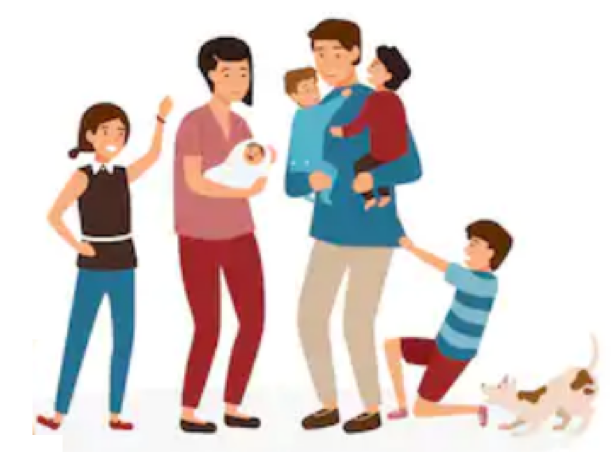 Quarantine Crazy: The 6 Struggles Most Families Are Facing
Quarantine Crazy: The 6 Struggles Most Families Are Facing.

For as long as I have not seen or smelt the sea (only 10 km's away), I have found myself spending almost all my time with just six other people – my wife Julie, and our five kids, aged 5-11.
Like thousands of other lock-down or level-four parents, Julie and I have had to find a way to lead ourselves and our families through lock-down, home-schooling, financial pressures, working from home, and trying to maintain our marriages and family happiness all at the same time. Not an easy task.
We started off with high hopes of thriving in this time. But if we can be honest, we have lowered the bar – Julie and I now talk about surviving in this time with a touch of thriving where possible.
As Julie and I prepare to, via an online platform, speak to and help entire parent bodies of schools, I have reflected on three questions, which I will do over 3 posts. I have also mined the collective experience of 30 other families who helped me prepare these talks/posts:
Post 1 (this one) – what are the struggles for quarantined families?
Post 2 – what are the solutions for self-isolating families?
Post 3 – what are the surprises for lockdown families?
For this post, I focus on lockdown family struggles. This is obviously not an overtly positive post, but it is absolutely necessary.
Before we can speak about solutions (post 2) and surprises (post 3), we have to be able to name our struggles. Scott Peck opens one of the top bestsellers of all time with, 'Life is difficult. This is a great truth, one of the greatest truths. It is a great truth because once we truly see this truth, we transcend it. Once we truly know that life is difficult – once we truly understand and accept it – then life is no longer difficult.'
I can't say that naming our struggles makes them not difficult at all, but definitely once we name and own them, a sense of proportion comes to us and we can move in the direction of transcending them. So, see if you can identify with any of these quarantine hardships:
(By the way, don't imagine that I am using this post for free therapy. Nope, I have a therapist already, and Julie and I have processed this stuff thoroughly. I am sharing it for your benefit, so you don't feel alone. As I write this, I actually feel quite chippers.)
1. Working from home is complicated.
By far the hardest part is trying to work from home and parent/home-school our kids all at the same time – all while we wash dishes and clothing, and try keep things orderly. As I am busy broadening my line of work, I have committed to a strict writing regime of 2500 words per day. Julie's work as a writer continues in daily zooms, calls and deadlines. As a freelancer, if she drops below excellent, she may lose clients, which is not an option.
But all of this is complicated by the fact that our kids' school is now in the same space as our office. As such, our work is perpetually interrupted by the endless demands to diffuse squabbles, feed kids, set them up at work stations, explain time tables, and answer their 1000 questions. If you're wondering in the three hours I took to write this post I guess I was interrupted about 40 times!
My friend, a senior product designer at Discovery, and dad of two toddlers, tells me on a phone call: 'There are two kinds of experiences in this lock-down: singles and couples-without-kids who can capitalize on their simplified situation and live their best lives, and then those of us parents who who are constantly rattled and distressed by the dual task of parenting and working.' Soon after that comment, he says, 'I gotta go, my boy needs something.'
Two other parents I spoke to tell me how they're working harder than ever. In companies and organizations that are letting staff go, you have to prove by every ounce of work that you're indispensable. Also, it's a proven fact that people who work remotely do more work simply because there is no one there to vouch how hard and long they're working. Whats more, once our home is our office, our home is now associated with work – so it's much harder to switch off our work-brain and to limit our work to office hours. In short, the work-life balance we may have achieved in the past has been pulled out like a carpet from under us.
Just last night my wife pulled a allnighter, and today she tells me how, though she's doing her best to shake off the self-pity, she's shaken again by how hard life can sometimes be.
2. Home-schooling our kids is flipping hard.
Even my friends who are teachers tell me how hard it is to teach their own. Where does that leave the rest of us?
There's important skills to learn in home-schooling. But until we have those waxed, our kids may notice what lousy teachers we are. Especially if they don't enjoy school work as it is, having a tense teacher who is also their parent may put us in the category of dentist in their minds.
But of course I am talking about those kids who are lucky enough to even have parents who put in the hours to help their kids' school work. One mom told me, 'Because of my work stress, my daughter is left to manage herself which she is capable of doing, except that this is her first year of high school and she feels the lack of attention and guidance. My grade 3 son didn't have a phone or computer before quarantine, so he cannot manage this Google classroom home schooling program by himself. He is not used to typing which shows when he needs to complete an exercise online. We also don't have a printer so we/he needs to copy out all of the exercises before he can complete them. I also have to help him decipher the requirements which I don't have much time to do.'
Let's not forget the way this compounds existing struggles for kids. One parent tells me about being in a Whatsapp group with other grade-12 parents: 'Our kids are under so much pressure. Many feel very isolated and fearful right now. Any pressure we put on them to do better compounds the stress they already feel.'
3. There's a loss of community and connection.
We humans flourish best when we enjoy daily and weekly real face to face connections with others who share our same life circles – relatives in our city, sport-, school-, faith- and work-communities, and also favourite restaurants (my parents-in-law host a community of over a 1000 regulars at their Coffee deli – I ache for their coffee daily).
At a neurological level, our relational networks have correlating neural networks in our brains that fire up when we see the same familiar people in the same places. These people are in a real sense our life. But as those neural pathways grow over, we experience the pain of loss.
We adults feel the loss of this – even those of us who claim to be thriving introverts in this time are starting to admit our growing hunger for community and people.
I also know many adults who agonize about their children and even spouses being stuck on ships and in other countries with no set return date to cling to.
Again, think about what our kids are experiencing. About three weeks into family-isolation, one of my older kids mysteriously hid away for half an hour. When they re-appeared, they explained that they just needed some time to get their heads clear because this morning they had woken up on the wrong side of the bed. Their tear-stained face revealed that this was more than that. Most of our kids do not have the ability to articulate these deep painful emotions, and may do so in other ways – bed-wetting in primary school kids (one teacher told me last week) and anti-social behaviour.
4. Levels of grief, discontent and fear rise up.
Over and above the work-homeschooling juggles, there are other kinds of stress piling on in this time.
I remember one day on my Facebook feed reading three consecutive posts by people who had the courage to explain what they find so singularly hard about this time. The first spoke about their fear – the fear of losing their job, of losing loved ones, of their loved ones not having enough.
The second spoke about their grief – so many of their routines, lifestyles and certainties they had long enjoyed had been taken from them. But more than that, they have lost the world that once was, the 'times before the virus.'
The third spoke of their unhappiness – though they counted themselves among the more advantaged people in this time, they were chiding themselves for how restless, unsatisfied and empty they felt. As I read those three posts I realized whichever direction one looked – future, past or present – things looked bleak. The loss of the future spelt fear. The loss of the past,grief. The loss of the present, misery.
I must admit that, of those three posts, I most resonate with the one about fear and future uncertainty. Us parents kids feel this more acutely because we're concerned about our kids futures too.
Anxiety is rampant at the moment – I read a recent stat of people in the UK, 47% of which said their anxiety levels were "off the roof." As we watch the same heavy Covid news and watch those numbers climb, doom feels closer. Our lack of collective clarity about Covid-19 creates even more angst. We fear nothing more than what we don't know.
5. The stress plays out in the family. 
The juggling, the home-schooling, the rising levels of grief, discontent and fear all feed into greater stress. And let's not forget the run-of-mill stresses that happens in life anyway. For example, there are other sicknesses too. I should know, I have had two kids hospitalized in this time, one from the Epstein-bar virus and the other from an infected appendix which had to be removed.
I don't know how you function emotionally, but I find when I am the most relaxed and replenished, I am a much better husband and dad. But when I am stressed out, and my vital levels are low, I tend to lose my cool much more quickly. Just last night, as I tried to get the three little ones into bed, my daughter disobeyed one too many simple instructions, and I snapped and roared like an angry lion: 'GET! INNNNNNN! BEDDDDDD!!!!!' It brought her to tears, and I felt ashamed at my lack of ability in the moment to keep my own emotions in check.
What recharges you? Having some time with special friends, or a pretty place that recharges you, maybe? I have found that if I don't get a good dose of the sea at least once a week, and a nice chunk of solo-time my emotional battery starts to run low. Well, this now landlocked surfer is running on empty. With less emotional reserves in place, I have so much less to give. Sure, I enjoy these little walks around my 'hood, but they only faintly register on my emotional tank levels.
Our kids emotional tanks are likely running low too. For sporty and social kids and teens, being cut off from these revitalizing experiences explains at least part of their endless squabbling, or reclusive tendencies in the case of teens, who won't leave their room. This is very hard for them.
My heart especially goes out to single-parent families. I have friends who found themselves working 10 hour days on a computer with young children in a flat, almost going out of their minds.
6. Soulless screens take up more and more place in our family. 
Screens are double-edged. They are life-savers in some ways. But they're also life-drainers in a family. I don't know of a parent who hasn't let their kids watch more TV than ever before. Although their being glued to a screen serves as a respites for us parents, many of us notice that the more our kids watch stuff, the less drive for life and learning they have, the more they crave screen time, and the less positive energy they tend to emit.
All day today, and every day for weeks now, I have intercepted kids picking up phones, Ipads and laptops without my permission. I spoke to a parent of a teen who feels like they live in a different time zone to their now-out-of-school child who games till 3am every night.
As for Zoom, maybe you love it, but I compare it to flying. The first few times were so exciting, but now its just lame. My one friend says after just two Zoom meetings he needs to sleep, because he is so tired. That's a universal experience by the way – the 1 second time lapse creates the misguided sense that the other people are not friendly or focused, and we try to compensate.
Besides, we're used to experiencing different kinds of conversations in different place – socializing at a coffee shop, work meetings at the office, time with relatives around a dining room table. Doing all those things in one place blurs the previous rich variety of our relating to others into a colourless experience.
Most of my kids don't enjoy Zoom class meetings. Either they are terrified of being singled out, or they don't like seeing themselves on the screen. Boys especially relate in a more shoulder-to-shoulder way (rather than a face-to-face way) – so Zoom only heightens the distance they already feel.
Okay, that's enough heavy stuff.
But if you're to survive and maybe even thrive, according to Scott Peck, you have to start where this post starts. It's only as you name the things that suck that you can start to tame them too.
Be sure to check out the next two posts – they will be enormously positive and very practical. And don't forget to like 'The Dad Dude' on FB so you will get those posts in your feed.
(Finally, if you want Julie and I to do an online Parent Ed session with your school's parents too, we'd consider that. I'm at terranwill@gmail.com)
Comments
comments