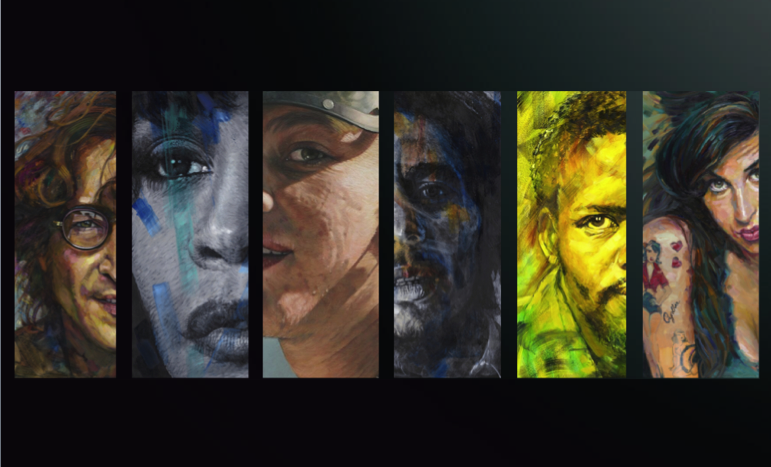 Check Out My Mom's Mindblowing Art (And Hear Her Heartwarming Story)
As a parenting writer, it's high-time I go up-line instead of down-line and shamelessly honour not only the mother who gave me my very life, but also her electrifying art talent.
Over and above being a brilliant grandmother, her latest focus is her imminent "Immortals" art exhibition.
It consists of 10 large-scale oil-portraits. She describes the driving ambition behind her figurative renditions of Steve Biko, Freddy Mercury, Bob Marley and others…
"In this collection, I pay homage to the famed legends who have come and gone too soon. Dying before their time, they have remained with us as the forever young.  
I've been powerfully drawn to this idea of art as immortality ever since my 23-year old-son Ryan died in a car accident. This is why my portrait of him features amongst those who are renowned by all.  
As you look upon their faces, my hope is that not only will your breath be taken away, but that they will momentarily regain theirs."
That said, it's not just the art, but the person behind the art I want to applaud…
MOTHER THERESE
That's not a spelling mistake by the way.
Her name is Therese Mullins. Not only do I have half her genes, I have half her name. (Therese + Ivan = Terran)
My mother and I grew up together.
Well, almost.
While she wrote her matric exams, I was there (in her tummy).
I was there when she married my dad at 21. And when she brought my younger brother home from the hospital. And when she, only 5 years in, ended her marriage.
I remember her walking down the road every night at 6pm, after catching a bus from her work in Hillbrow. A struggling single mom without any tertiary education, she managed to feed and house us by working as an Adverts salesperson for the Star.
When I was 10 we moved to Cape Town. My mom attempted to launch her career as a self-taught fashion-designer. Unable to find enough work, she was forced to move back to JHB. Leaving Ryan and I with my fantastic father, she promised that once her business was up and running she could return.
This broke her, but I am forever grateful – Ryan and I were able to live with my dad in the final years of his life. When I was 16, he passed away at 36, one of the first 100 to die of AIDS. My mom moved back and nursed his sick partner in our home for the final year of their life.
From that point on, my mother worked a seven-day week trying to make ends meet – always putting herself last, generous and sacrificial to a fault,
I have always thought of her as a kind of Mother Teresa.
She has been brave but not invulnerable. In my child years, I remember crying with her arms wrapped around me. In my later teen years it was me holding her. But her pain only seemed to strengthen her resolve to succeed in her career and be of help to others.
RAW TALENT
She accomplished remarkable things as a fashion designer. Success came slowly, but it came. She eventually employed 50 people. Several years in a row she won the Sunday Times best matric dance dress award, and also featured a few times in the Cape Town Fashion week.
As her success in fashion design climbed, she faced the greatest heartbreak of her life.  My younger brother died in a tragic accident in 1999.
I don't think a mother can ever truly heal from losing a child, but far from making her bitter, this loss has only led to her being more compassionate and determined.
Into the void, Allan Mullins (of Woolworths and Cape Wine fame) came into her life, sweeping her off her feet. A truly wonderful man, thank God.
Despite her brilliance and diligence, the undermining of the local luxury market by China's ascendancy as well as the lack of business instinct so typical in a self-effacing creative (under-selling herself!) led to her closing down her factory in 2013.
Another chance at overcoming, and back to the drawing board, she chose canvas as her new material. At the tender age of 58 she did an art course and began to seriously pursue her newly found passion for large oil portraits.
After the acclaim her first Mandela portrait received, she embarked on a full time career. Since then, she has sold her work across the world and been commissioned for numerous noteworthy portraits. She has excelled in every competition she's had time to enter: having been twice short-listed in the Sanlam Portrait Awards and chosen as one of South Africa's Portrait Masters in 2017.
A CAREER BREAKTHROUGH
Early last year I spoke to my mom about the next step in her career – a solo art exhibition. I was pained to find out this was impossible; she could not afford to paint 10 works without the financial pressure to sell some along the way.
I started to pray for a well-deserved breakthrough that would make it possible.
Long story short, magic happened in a 2-day period in August last year. On the Thursday she received an award, a free 2 week solo exhibition at a reputed gallery. The day after she received a gift, R100k so she could paint 10 paintings without trying to sell any to keep her afloat.
The award came as a result of winning the People's Choice Awards out of 100s of other entries at the Cape Winter Art Exhibition The gift came when, in light of Women's Day, I mentioned my mother's awesomeness and talent at a conference I was speaking at in Gauteng. "Moved by God" (that's how they put it) three people who I have never met decided to give my mother that wad of money!
I still remember her tears on the phone when I told her as much.
THE IMMORTALS EXHIBITION
Having sneaked a peak at some of her Immortals works, I am chomping at the bit. I remarked to her, 'Each and every one of these is the very best portrait I've  seen of these celebrities.'
Her exhibition – with paintings and prints to go – launches on Valentines Day at The Studio Art Gallery, in the New Harbour Bay Mall in Simon's Town, Cape Town. It runs til 27 February.
If you're in the Mother City, you're welcome to come see my mother's art.
Really, please come.
If you can't come, perhaps you can steer others towards her exhibition, either inviting art lovers personally or by sharing this post. I'd be so grateful.
---
PS. If you'd like to see some of my mom's work, go to https://www.instagram.com/therese_mullins/
Comments
comments