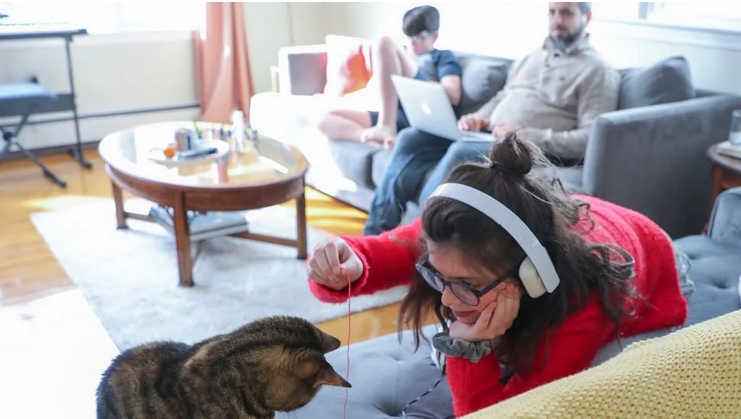 Home Bound and Still Happy – Here's How
Home Bound and Still Happy – Here's How
A billion people are now ordered to be home bound.
It is likely Julie and I will be stuck at home with 5 kids for a month. Just a few days in, we are not faring well:
More than usual, I have verbally lashed out at my kids who, in hindsight, were just being kids. (I called the one 'you fool!')
Yesterday I absorbed a sense of global despair as I read 20 Covid-19-articles, my entire demeanor affected.
Our new fridge has 100 dents from our twins using our stockpile of 10 cans of tuna as a throwing game.
My kids have been magnets to Julie and my unattended laptops and cellphones, doing more screen time in one day than I can remember.
By days end, my body felt weaker than it did a day before – as did my mind.
I wake up early today, with a plan to fix what's broken in this microcosm of society, my home. Isn't that a cool part of being human? It's not just life happening to us, we have agency too.
Imagine coming out of this (and we will come out of this) not wilted and worn out but deeper and better.
It's not just for the sake of my family. When we eventually get round to the global and local rebuilding on the other side, the world is going to need people who are  stronger and wiser.
That's my plan.
But how?
My fresher mind settles on a solution:
Julie and I must create a daily schedule of good habits that will not only be conducive to peace and order but, more importantly, growth – mentally, spiritually, relationally, physically and achievementally (I made this word up.)
The most common excuse we've given for poor habits has been 'there's just not enough time'. Our complaint has been heard, and we've finally been given a chance to get this right.
If you've wondered around a bookstore in an airport lately, you'll know that the most common thread in current self-development literature is habit formation – stopping bad ones and starting good ones. The research is clear: the quality of our lives and the heights we can reach do not depend on the great resolutions we make, but the great habits we form. Another gem in this research is that we tend to 'catch' the good and bad habits of those we run shoulders with. If ever there was a time for parents to influence our kids for good, it's now.
Julie is still asleep and will no doubt improve my ideas, but here are the daily habits I plan on etching into the daily rhythms of our staycation:
Physical Habits
Twelve minutes of exercise.
For the last term, my family have been starting week-days with a seven minute body-blitz led by Inger Houghton. After a few weeks, we were able to keep up with her, and our muscles started to look more defined. We follow this up with a 5 minute cool down-stretch.  I plan on taking us as a family through this 12 minute combo both morning and pre-dinner now. We're gonna be ripped and flexible by the end of this.
Three or more portions of fruit and veggies.
Remember what caused scurvy in days gone by – a shortage of fruit. I am sure you've stacked up already on long-lasting processed food, but my buddy who just sat through a month of lock-down in Wuhan says that fruit became the prized item that people were willing to pay delivery services 4 times the usual amount.
Mental Habits
Post-lunch solo-time.
In holidays gone by we've created a Quiet Hour of mandatory silence and solo-time after lunch, where we can either draw, read or write.
Bed-time reading. 
One advantage of getting to bed earlier with fresh enough minds is we can all do some reading. The last few nights, we have fallen asleep to Audible's   current free offering of kids books. If your kids haven't read the Chronicles of Narnia, now's a good a time – it is about kids separated from their families in World War 2.
Screen edutainment.
Thank God for Netflix and Youtube in this time! But to limit an intake of content that only makes us and our kids dumber, what about watching educational documentaries and websites like NatGeoTV.
Achievement Habit
Skills-development hour or two.

If you're unable to work, think of this as a surprise Sabbatical – an extended break from work, the first third in which one rests from work, the last two thirds in which one strategically upgrades their skills and knowledge for greater effectiveness in the next few years.
It may feel right now like your career path has come to an end. Not true. It is mutating and needs your self-reinvention. Be inspired by Madiba who used his prison time (27 years not just 27 days!) to develop the mindset, knowledge and strategies to be the great president he became.
I am using this time to study and write in the direction of my preferred future. In the case of my kids, we plan on guiding them to sharpen their maths, reading, writing and art skills.
Spiritual Habits
Morning family devo.
If your family has faith, now's a good time to tap into its resources. When we're flat on our backs, its a good time to look up.  If you're interested, everyday I've been uploading to my FB page an uplifting, sound and practical reflection on the biblical story of Abraham, the father of faith. Tons of people are tracking with this verse by verse journey. In fact, Julie and I start our day with our kids reading what I wrote together, then we ask what stuck out to everyone, then one or two of us pray about what we learnt. Watching a video together like those on bibleproject is another option.
Lunch-time thanksgiving.
Sure, everyone in the family has been stripped of many freedoms, but now is the time to notice just how many good things there are in our lives. In our house, lunch doubles up as gratitude time – we circle the table, and each give thanks for 1) someone and 2) something. With so much suffering around, we also shoot off some prayers of compassion for others.
Sunday online service.
A 1000 online church services have been born overnight – if you're not part of a church in RSA and want to "attend" I recommend services at The Father's House (PE-based), Hillsong (nationwide) or Common Ground (Cape-Town-based). As I write, my family is sitting on our bed about to 'go to church'.
Relational Habits
Family council. 
As issues arise, and tensions build, it's good to get everyone to sit down and answer these questions: 1) What are you enjoying in this time? 2) What's irritating you? 3) How can we do it better? 4) Anything else you want to say? (A great time for a pep-talk from parents.)
Skype/zoom friends and family.
We're planning at least one daily virtual face-time with people we love.
Dinner convo's.
Have you downloaded my 250 dinner questions. They steer our conversation in so many interesting directions.
Family fun nights.
As awesome as watching movies and series are, we're going to have a family fun night every 3 nights. Each time, a different family member gets to create a 30-40 minute program of fun – here's some ideas. Fynn actually suggested this – he's telling me about picnics, karaokes, Star Wars dress up, pillow fights and a dance off.
You get the picture.
I can't wait to chat with Julie and improve this list.  Then we will run it by the kids who will want to improve it too. Without their ownership, this idea is going no where.
How about you? What's your family's daily schedule of happy-making habits going to be? I challenge you to create Draft 1 on your wall by day end.
Comments
comments