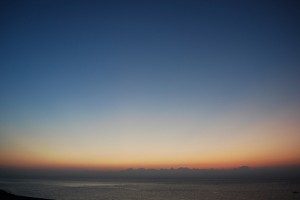 Living In The In-Between
I don't know about you, but the long-awaited end of 2020 feels like a firecracker that got wet before we lit the fuse. We're all huddled around it, waiting for the spark and bang of a fresh new start … and nothing.
So, here's another post from my lovely wife,  but posted here as a timely reminder at a time that's never felt so very in-between. In our experience, learning to love the space we're in (no matter how messy or unclear it may be) is an art that requires conscious effort. Over to Julie…
"I've found a word to describe this crazy season and my own experience of it: liminal.
It's a word to define the space between two things. Like dawn and dusk—liminal spaces have blurred edges and boundaries that are hard to pin down, but looking back, the changes they bequeath are as unmistakeable as day and night.
Speaking of which, as you fall asleep and as you resurface from dreams into waking, you're in a sacred liminal space. Caught between two worlds—not fully in either; you've left one place but haven't yet arrived in another.
And we're all in-between two worlds at the moment, aren't we?
There's the world we left behind only many months ago. An unmasked world where strangers rubbed shoulders, children went to school (and hardly washed their hands), and the future seemed somewhat predictable.
Then there's the world we have yet to arrive in: the post-Covid world. None of us really knows what it will be like. After all, we've never been this way before, and nobody (not one of us) is there yet.
So what can we do in the meantime?
Firstly, we can acknowledge the strange space we're in: liminal spaces always leave one feeling unmoored and vulnerable. It is what it is. The ground beneath our feet is moving, and it's unsettling. Rather than rage against it, or deny it's happening, or point the finger of blame, accepting this is the first step to moving through it and beyond it.
Then, how about looking out for some liminal silver linings? Nobody chooses to be in the 'in-between' spaces – they're uncomfortable and challenging. But when these times do come, and they have now come to us all, there are some real silver linings. In the words of a liminal sage…
"The very vulnerability and openness of liminal space allows room for something genuinely new to happen. We are empty and receptive—erased tablets waiting for new words. Liminal space is where we are most teachable, often because we are most humbled…
In liminal space we sometimes need to not-do and not-perform according to our usual successful patterns. We actually need to fail abruptly and deliberately falter to understand other dimensions of life. We need to be silent instead of speaking, experience emptiness instead of fullness and pennilessness instead of plenty."
Perhaps this unsettling space will prove to be your greatest teacher yet.
And one final thought about the in-between:
This too shall pass.
Liminal spaces are by their very nature, limited. They don't last forever. Neither will the pandemic we're in now. There will come a day when we leave our houses, high five strangers again and our open-faced kids will hug their friends. When will it end? How will it end? What will be different on the other side?
There are no exact answers to these questions yet. But one thing is certain: on the other side, we will have survived one of our generation's greatest challenges. The world will certainly look different, but take heart dear one, so will you."
(This post was originally posted on mumbox.com.)
Comments
comments